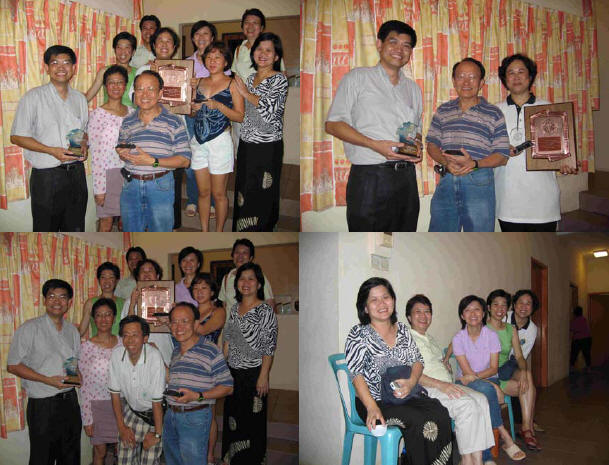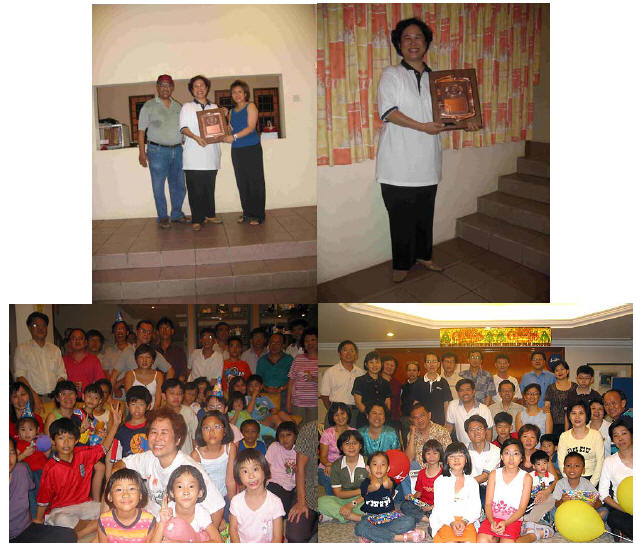 Congratulations to our President Tay Yiang Ping
for being the
AREA D5 Toastmaster of the Year 2002-2003
There were several contenders for this honour and we are so proud that Yiang Ping has been awarded this title.
Our Area D5 Govenor, Michael Rodrigues ATM-G CL said: "Our Area Toastmaster of the Year, Tay Yiang Ping as President of Sky Media Toastmasters Club, has displayed excellent leadership qualities to encourage, energize and engineer the progress and success of the members of Sky Media Toastmasters Club. With her example and dedication Sky Media Toastmasters have reached great heights in their educational escalation but at the same time they have displayed a wonderful dedication to service for their fellow Toastmasters. It is no surprise to find Sky Media Toastmasters helping out at other Clubs' Areas' and Divisions' contests and events and we could not help noticing this at the Semi-Annual Convention at the Swisshotel, The Stamford, in November, last year.
The humility of Tay Yiang Ping, is also evident in the fact that she has been always willing to take up any appointment at other organizations' events, from being a receptionist to SAA, evaluator and judge. Her dedication to her club is exemplary as she has made her members "Dare to Excel" and to work with her to achieve the club's common goals. It is indeed heart-warming and a credit to her that the Toastmasters of Sky Media look up to her and follow her example, advise and dedication. I sincerely believe that Tay Yiang Ping is a worthy and deserving AREA D5 Toastmaster of the Year. "
Our humble president Tay Yiang Ping in accepting this award said: "I was hesitant to be nominated as
the Toastmasters of the Year, because I am not a good speaker. The honour must go to our Exco Officers and our supportive members. With all the Exco members selfless contribution and members warm support and very encouraging participation in all our club meetings, our Club can than be successful today! "
Sky Herald,
A Publication of Sky Media Toastmasters Club
Volume 5 Issue 4 / April - June 2003
---
I nominate Tay Yiang Ping, CL (President, Skymedia Toastmasters Club for Toastmaster of the Year. Henry Teoh
---
yes,
and could somebody writes something nice leh.

When you make your nomination please include a short write-up as to why you

have picked this particular individual. Eskay
---
Hi to all,

I same the same sentiment as Suzanne. I vote Yiang Ping as Toastmaster of the
year for her full commitment as President of Skymedia Toastmaster. As for
Eskay, if there is a hardworking award, I will vote him because he can call you
day and night to confirm on your role.

Rgds.
---
NOMINATION FOR TOASTMASTER OF THE YEAR 2002-2003
I, Yeo Chai Tun CL, of Sky Media TMC (8046-51) would like to nominate
MDM TAY YIANG PING (President of Sky Media TMC) as Toastmaster of the Year 2002-2003:
· Her 'once-decide, must-do-well' attitude was once again demonstrated during her as President of Sky Media Toastmasters Club.
· Internally, she leads with passion, enthusiasm and commitment. The Club members can feel it! As the President, she is the lead driver of the Club and associated activities. She knows that art of motivating the exco.
· On the external front, she mixed well with other Clubs and co-ordinate well with the Area D5 Governor. The attendance of visiting Toastmasters in our Club is the testimonial of such good rapport with Others. She also encouraged fellow club members to take meeting and contest appointments for external clubs.
· For herself, she pushes herself even harder. I have carried several silent or open evaluations on her speeches, she definitely has improved in quantum leaps and bounds from her maiden presidential address!
· She has committed much private time on the organization and management of Club activities and her efforts are well appreciated. She is also at times generous in paying for expenses incurred in Club activities.
· Personally, I must thank her in agreeing with our nomination as President this term; she came in as a reluctant President but has also surpassed our expectations!
Date: 8 April 2003
---
NOMINATION FOR TOASTMASTER OF THE YEAR 2002-2003
I, Albert Lim Hock Seng, IPP of Sky Media TMC (8046-51) would like to nominate
MDM TAY YIANG PING (Pres. Sky Media TMC) for the following reasons:
Yiang Ping is a leader who puts her foot where her mouth is. Even before she became President, she had been an active member of the EXCO, sharing her ideas and even 'footing the bill' for the Annual Year End Get-together at her home, at her own expense.
She is a fearless critic of the Exco and did not hesitate to point out areas for improvement, when she was an ordinary member. Initially she declined to be nominated as President. But once she accepted the position, she took on the task with gusto, and fearlessly led the Sky Media TM Club to achieve 10 DCP goals, and even prepared the way for the in-coming EXCO to achieve and maintain its standard.
She personally challenges the members to attain their CTM, CL and ATM-B status, to participate in Table-Topics at Club meetings, and to improve their communication, listening and thinking skills. Setting an example, she is pushing herself to do attain the ATM-B herself. A truly exemplary leader and Toastmaster.
Date: 8 April 2003
---
Hi Albert & Chai Tun & all,

I couldn't, but fully agree & support your nomination of our dear president for this honour. What we couldn't repay her for her sacrificial & selfless time & effort, during not just this term but all these years, we can but to grant her our 100% vote towards this award. Are we 'all for one' as she has truly
been 'one for all' for our Club!

3 cheers to both Albert & Chai Tun for your sincere & heartfelt write-ups!
Thumbs up to all for this 'heartbeat' spirit!
Have a blessed weekends.
SUZANNE